"Red Lobster" Cheddar Biscuits
I simply
love
Red Lobster Cheddar Bay biscuits. Unfortunately, I can't eat there as often as I'd like to have one of those biscuits along with my dinner,
especially
on spaghetti night. I found umpteen recipes on the net, all of them basically the same, but every time I made them, they just didn't seem "quite right", always on the dry side.
That is until I played around with the recipe, enjoy!
Ingredients:
2 1/2 cups Bisquick baking mix
1/2 to 1 cup shredded cheddar cheese (your choice)
3/4 cup milk
2 Tbs melted butter
TOPPING:
1/4 tsp garlic powder
1/4 cup melted butter
Directions:
Preheat oven to 425F
Combine baking mix, cheddar cheese, milk, and 2 Tbs of melted butter in medium bowl, stirring until mixed well.
Drop by large spoonfuls onto greased baking sheets about 2 inches apart.
About half way through baking time, (7 to 8 minutes) remove from oven and brush tops with 1/4 tsp garlic powder that has been mixed with 1/4 cup melted butter. Continue baking 7 to 8 more minutes or until tops begin to turn light brown. Serve warm.
Did you try them? Let me know what you think.
Chicken Casserole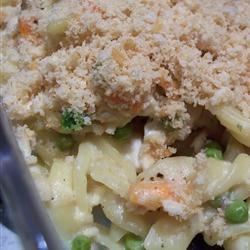 I like to serve this as a cold evening, "comfort food" dish. I usually only serve a side of warm rolls to go along with it since it will already have meat and veggies. There are many variations to this recipe, work with it to see what you like best.
Ingredients:
4 boneless, skinless, boiled chicken breasts, cut into bite sized pieces
1 1/2 cups frozen peas and carrots
1 10.75 oz. can cream of chicken soup
1 cup cooked noodles ( I use egg noodles)
3 Tbs butter, melted
1/4 cup bread crumbs
1/2 sleeve of butter crackers, crushed
Directions:
Preheat oven to 375F
In medium bowl, combine chicken, peas and carrots, soup, and noodles, mix well. Transfer to greased baking dish. In separate bowl, add melted butter to bread crumbs and stir, sprinkle over chicken mixture and fold in slightly. Top with crushed crackers, bake at 375F for 30-35 minutes until crackers are nicely browned and casserole is bubbly. Enjoy!
I just watched Down Home with the Neely's ( I
love
those two!) and they made burgers that looked so scrumptious, I just had to look up the recipe!!

The episode was called "Tasty Tennessee" and me being the down home Georgia girl that I am, I thought all of the recipes sounded soooooo good. Check them out.
Quick and Spicy Tomato Soup From the Food Network
This is a recipe from Giada on Everyday Italian. It's an easy to make, tomato based veggie soup. It only takes 22 minutes to make from start to finish ....... how easy is that? It's made with everyday ingredients, you don't need a lot of crazy spices that cost an arm and a leg that you'll only use once. I'm thinking a salad and warm garlic french bread top go with, yummy! If you try it, I'd love to know how it came out and if you made any variations to it.
Scooter's Spaghetti
Hubby was talking the other night about a "baked spaghetti" he grew up eating. Now, maybe that's a northern thing or maybe I just have been living under a rock all this time, lol, but I had never heard of a baked spaghetti.(not that it sounded bad because it sounded really good actually) Then I found a mouth watering picture as I was internet surfing today and I clicked. Low and behold, it was a recipe for a baked spaghetti. Guess I gotta give it a whirl now. :)
Perfect Caramel Apples on the Food Network
It's that time of year when I start thinking of "Fall" foods, and to me nothing says fall and Halloween like delicious caramel apples!
Snickers Cheesecake Recipe
Snickers candy bar + yummy delicious
cheesecake = give me a fork and get outta my way!! : D
I soooo have to try this really soon. I found it on myrecipes.com and added it to my favorites about a month ago. Now to remember to get the ingredients............. where's my posty notes?
Martha Stewart's Perfect Baked Macaroni and Cheese
My son saw the picture of this recipe on Yahoo yesterday and asked me to make it soon. ( he loves mac & cheese! ) I have never, ever, attempted mac & cheese from scratch before, so, I told him if he got the ingredients, I'd try it. Homemade mac & cheese wasn't as hard as I had always thought. Very time consuming, yes, but not hard. The picture of mine didn't come out like the picture of hers, :) but was still very good!
Chili Cheese Dog Crescent from Pillsbury
My kids LOVE chili dogs but the same old thing gets so old! I got an email with this delicious looking recipe and after seeing how simple and how few ingredients, I just have to try it really soon!
I would serve this with maybe a side of tater tots.